Gulf County, Florida, is a combination of beach town fun and hometown charm. Get ready to enjoy over 244 miles of winding shoreline ranging from clear waters and uncrowded white sand beaches to tranquil inland passages. Gulf County is known for its laid-back atmosphere and outdoor activities, both on and off the water. Here, being outside comes first and the experience is never the same twice. It's easy to fall in love with our unique coastal communities, the people, and the nature that surrounds us.
If you are thinking about visiting our one-of-a-kind destination here is our list of the top 5 must-do's while you're vacationing in Gulf County, Florida. 
#1: Start Your Vacation with a Visit to the Gulf County Welcome Center. 
Once you arrive in Gulf County, the first place you are going to want to stop is the Welcome Center! Located just off Hwy 98 in downtown Port St Joe, this "big green building on stilts" is your gateway to adventure. Their expert concierge team has all the insider information on amazing restaurants, shops, and fun activities for the whole family. Be sure to explore the entire center where you can learn about local history, sample some world-famous Tupelo Honey, grab a cup of coffee, and relax on the back deck. Get ready to experience stunning views of St. Joseph Bay and spot amazing wildlife through their telescope. While you are there, be sure to pick up some freebies, including informational brochures, maps, stickers, and a Visitor Guide. The Welcome Center is the perfect place to start the Turtle Trail, park and hike the Port City Trail or snap a photo in the photobooth. They also have four fantastic murals located throughout Gulf County, these photo hot spots are perfect for making some fun vacation memories!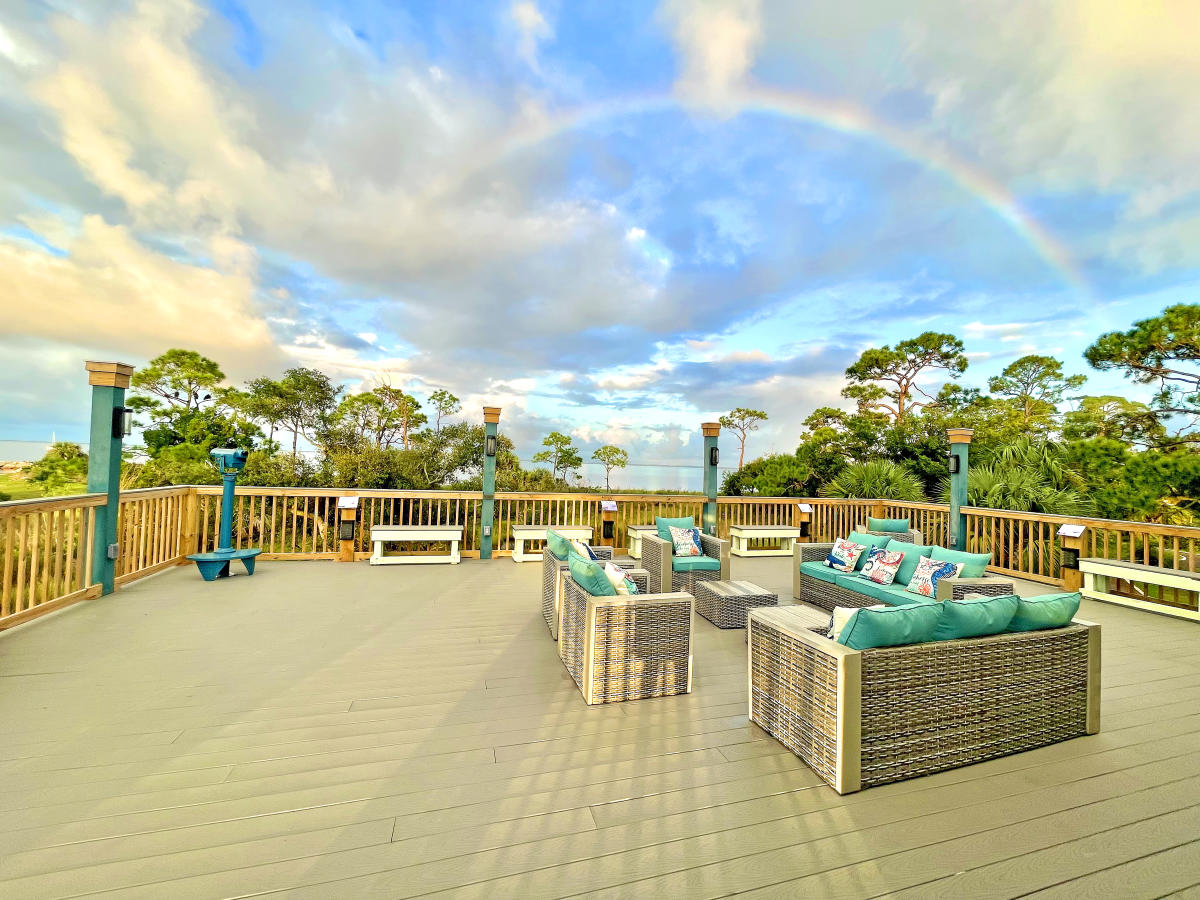 #2: Have a Bonfire on the Beach While Enjoying a Westward Facing Sunset. 
Something fun and unique about your destination, is that it is the only panhandle county that boasts a westward-facing sunset. And the sunsets are absolutely phenomenal! One thing you don't want to miss out on while visiting is watching the sun slowly dip below the horizon into the Gulf of Mexico. If you're lucky you might even catch the phenomenon known as the "green flash". While waiting on the sun to set, experience something truly magical and enjoy a nice relaxing bonfire on the beach! Just be sure that you follow the rules and Leave No Trace. Burn only natural wood and all remnants must be extinguished and removed from the beach that same day. During the dry season, it's heavily advised to check there are no current burn restrictions in effect by reaching out to the local Emergency Operations Management Center.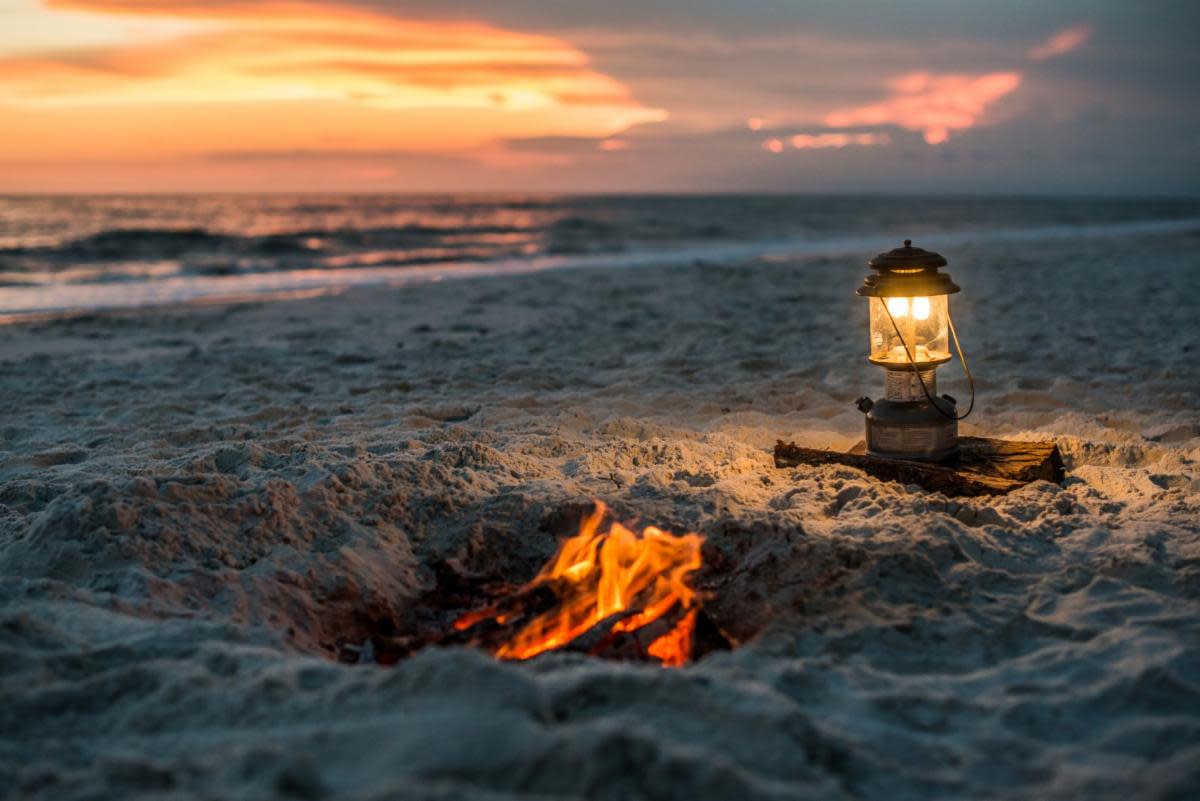 #3: Take a Walk Down Reid Avenue & Explore Downtown Port St. Joe. 
No matter what area of Gulf County you decide to stay in, you must take some time to go and explore downtown Port St. Joe. This small beach community is located right on the edge of St. Joseph Bay and provides quick access to the pristine bay waters. Perfect for a day full of fishing, snorkeling, boating, and outdoor fun! The town also boasts a rich culture and is brimming with southern hospitality. Historically known as St. Joseph, or Florida's first "Constitution City" it currently stands as the southern hub of the county and is booming with wonderful mom-and-pops style restaurants, unique shops, and a variety of beautiful parks! Those looking for an adventure with breathtaking views can climb the historic Cape San Blas Lighthouse (131 steps) or you can take a quick trip back in time and visit the Constitution Convention Museum State Park. While in town, make sure to check out the local event calendar which is typically jam-packed with live music, kid-friendly fun, festivals, and more!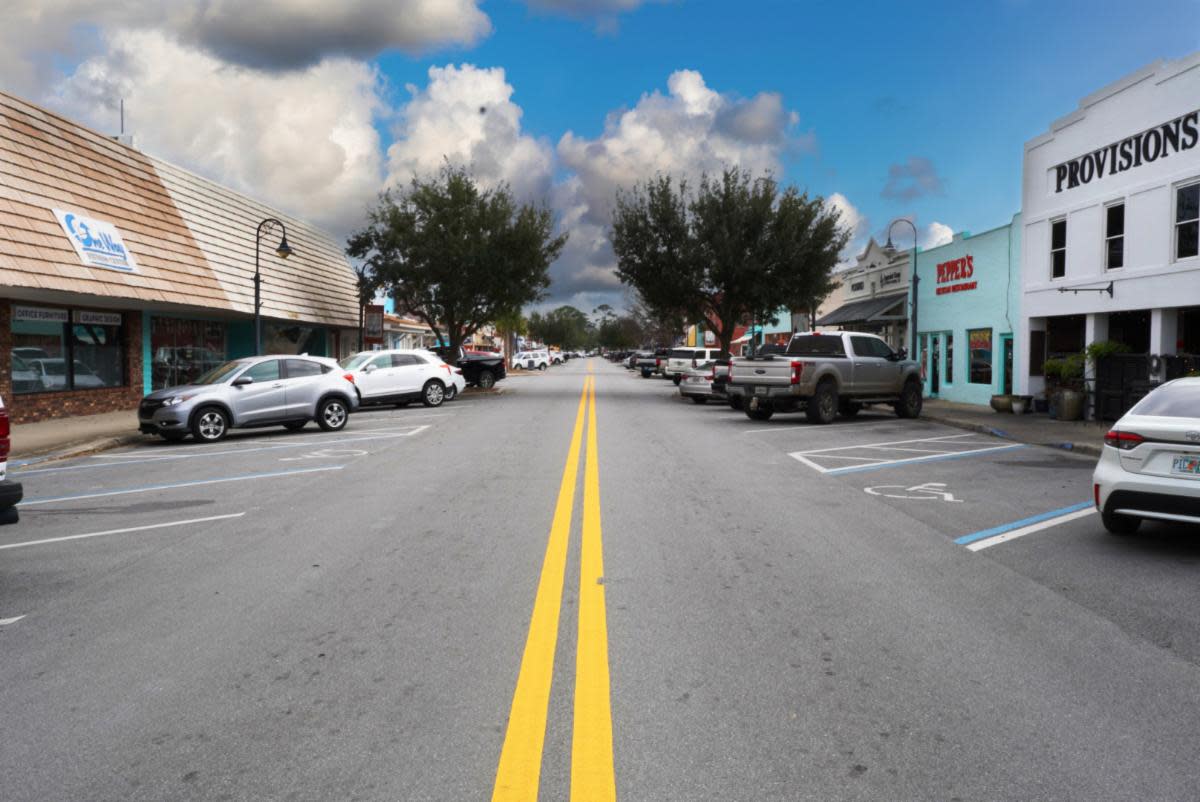 #4: Grab a Bite to Eat at the World Famous Historic Indian Pass Raw Bar.
Gulf County is known for its fresh-caught seafood, unique dining experiences, and creative menus at local eateries. However, many visitors still find themselves wondering, "where are we going to eat?". Although there are many tasty options to choose from, nine times out of ten, the response you will get is "Have you tried The Indian Pass Raw Bar?" One of Gulf County's oldest establishments, the "Raw Bar" traces its roots back to the Commissary/company store for the turpentine operation which began here in 1903. They are known for their casual dining atmosphere, wonderful food, friendly service, and of course the "honor system". At the Raw Bar, you just grab a seat and get a drink from the cooler, keeping a tally of how many drinks your group gets. Then, a waitress will swing by for your food order. At the end of the meal, the food and drinks are tallied up for your final check. There is also a great outdoor amphitheater, yard games & giant porch chairs to keep you comfortable while you wait. Most nights they also have live music from local performers, perfect for relaxing in the ambiance of true Gulf County.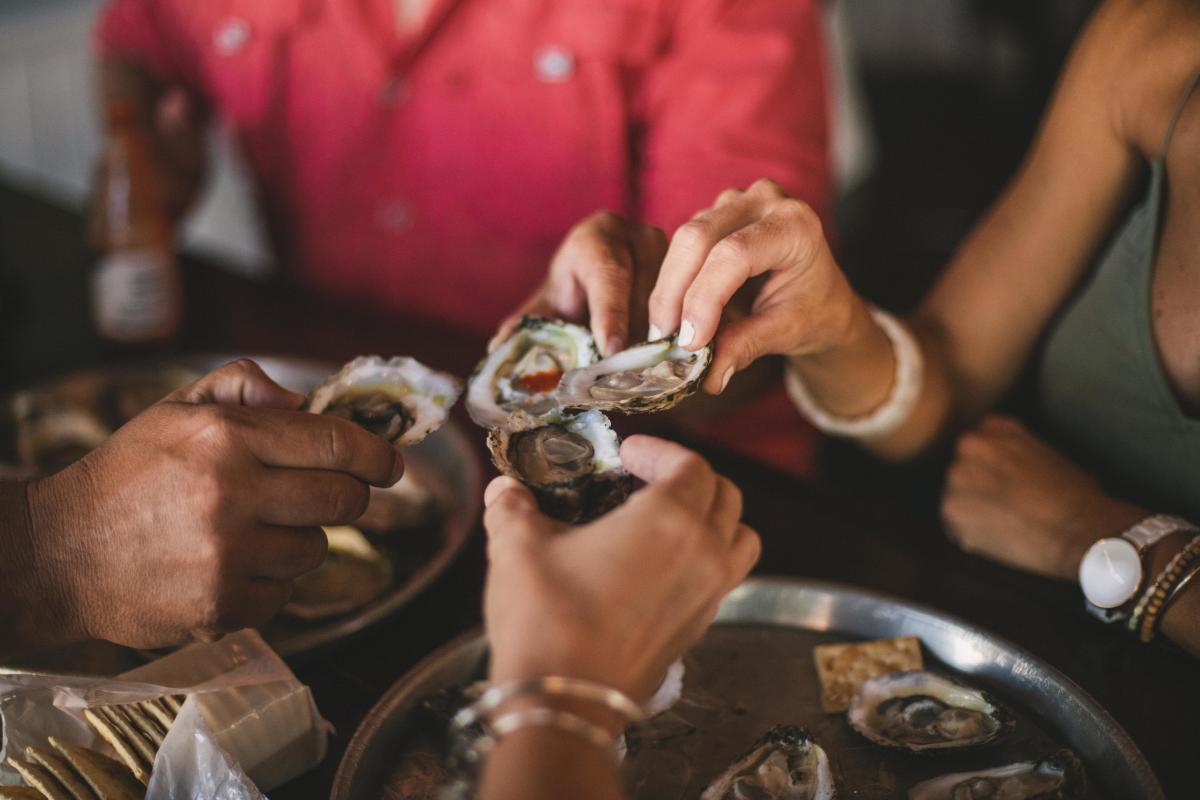 #5: Enjoy the Outdoors and Get Some Sand on Your Toes! (And Paws)
One of the most exciting things about your upcoming Gulf County Vacation is going to be getting outdoors and exploring nature on some of the world's most beautiful pet-friendly beaches. A true beachcombers delight, the sugar-white sand beaches are perfect for finding various shells and sometimes even rare Junonia! There are many wonderful trails throughout the area, great for hiking, biking, birding, and more! The Maritime Hammock Nature Trail at T.H. Stone Memorial St. Joseph Peninsula State Park is a local favorite and leads you through a gorgeous coastal hammock down to the secluded waters of St. Joseph Bay. There are various local outfitters who offer rentals for kayaking, paddleboarding, bicycling, and pontoon boats. If you are interested in trying something a little different, charter an eco-tour and explore the various waterways, sign-up for a unique yoga on the beach class, or try horseback riding on the beach! Whether you are looking for a full-throttle adventure or to take it easy, there are plenty of ways to experience Gulf County!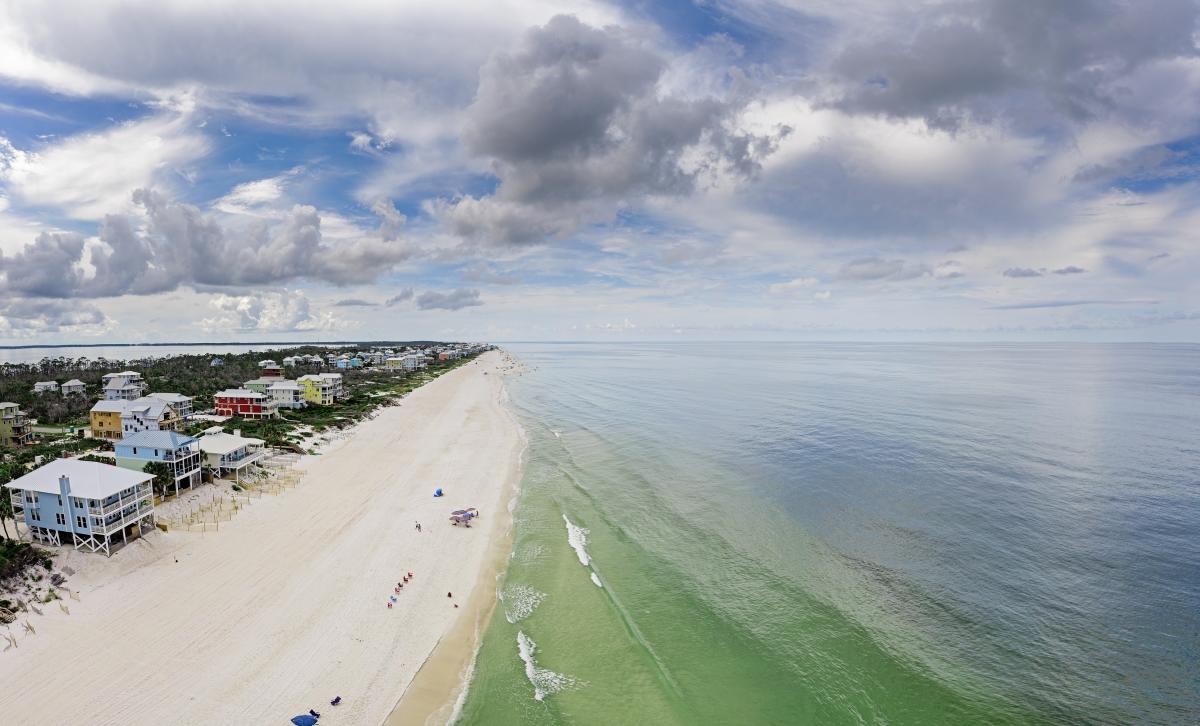 No matter where your journey takes you while visiting Gulf County, Florida, be sure to share your memories with us and hashtag all of your fun adventures. #GulfCountyFL