Cape San Blas Lighthouse
The Cape San Blas Lighthouse was built more than 130 years ago when Congress appropriated $5,000 to erect the original structure. It was designed to guide vessels around the shoals running out from the Cape using the sole beacon that could be seen for up to 10 miles offshore.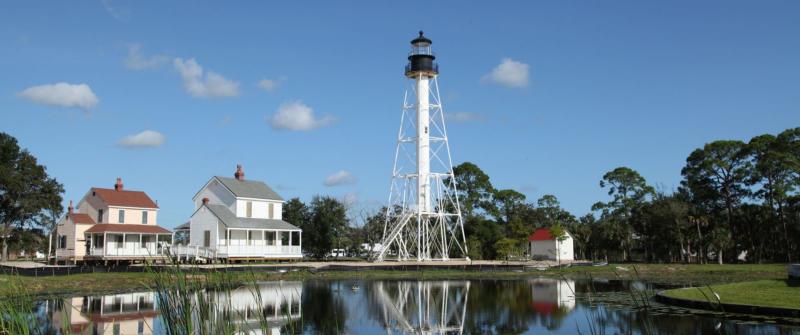 Rich with history, including an attack by Union Troops in 1862, the structure has survived a series of blows from storms, winds, and high surf throughout the years. Mother Nature continued her own onslaught and Tropical Storm Isaac reclaimed the remaining shoreline forcing the lighthouse to close temporarily in 2012.
In honor of its historic and iconic presence, the City of Port St. Joe successfully moved the lighthouse to its protective shores on St. Joseph Bay to preserve and maintain the beloved structure.
On July 15, 2014, hundreds of people watched as the Lighthouse, its two Keepers' Quarters and Oil House made its journey into Port St. Joe. The convoy, which was over 900 feet long and two lanes wide, was moved from the Gulf shores of Cape San Blas to its new location. The choreographed moving process took an entire day and required multiple power lines and a traffic light to be moved to accommodate the convoy on their safe journey. Locals and visitors alike were applauding with relief and pride as it came to its final stop in George Core Park. Hundreds gathered once again on July 24 to observe the Lighthouse as it was erected onto its new platform.
On the weekend of September 12, 2014, surrounded by the sights and sounds of the 18th Annual Florida Scallop & Music Festival, 249 climbers came out to be the first to take in the new breathtaking viewpoint of St. Joseph Bay from the top of the historic Lighthouse.
The Lighthouse Gift Shop is currently housed in the Keepers' Quarters, located adjacent to the Welcome Center and the historic Maddox Park overlooking St. Joseph Bay. The Gift Shop houses souvenirs that honor the Cape San Blas Lighthouse, visitors can also see antiquities from the Keepers' Quarters as well as register to climb the Lighthouse! 
Hours
Wednesday through Saturday, 11:00 pm EST to 5:00 pm EST
All times Eastern. Hours vary, please call 850-229-1151 or 850-229-8261 to confirm.
The lighthouse is located in George Core Park. This park is great for events or for picnics! 
X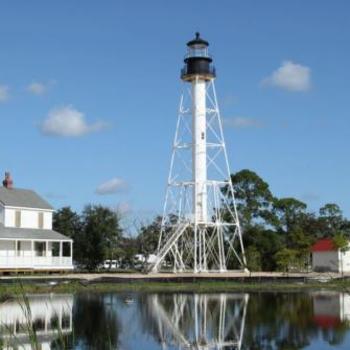 Lighthouse Closed For Climbing
Beginning August 15, 2022, the tower will be closed to climbers for renovations for approximately 90 days. the gift shop will remain open.under construction and will not be open for climbing.
Learn More