A vacation well spent means quality time with your family. No matter the ages and stages of your kiddos, Gulf County, Florida has the one-size-fits-all formula for a vacation packed with family fun. 
Get Out There…
Over 244 miles of shoreline are waiting for your littles to put some tiny footprints in the sand. You can put some hoof prints in the sand, too—Gulf County is home to some of the only beaches in the U.S. where you can ride horses on the shore. Since 1996, Rockin' M Ranch has been guiding families on salty rides to remember. And don't just take our word for it—riding beachside has also been ranked as a top activity in the area on TripAdvisor! 
Just below sea level, there is another world waiting for you to discover. St. Joseph Bay is a snorkeler's paradise of shimmering water and lush seagrass beds. There is nothing like listening to your kids come up for air and squeal through their snorkel mask when they see starfish! 
For a full-service snorkeling trip, make a reservation with AquaBear Adventures. Perfect for families, you will snorkel in 2-3 feet of water and hunt for dolphins on the boat ride there and back. 
To take the family paddling, check out Happy Ours Kayak and Bike Outpost, the oldest outfitter with the largest fleet in the area. Can you imagine how your kids' faces will light up when they steer the kayak all by themselves after you take off from the private launch?
…Or Stay in Here 
Gulf County has you covered for activities with AC, too. Do you have a kiddo that loves Crush, the turtle in Finding Nemo? The Forgotten Coast Sea Turtle Center provides interactive experiences and educational programs hosted by volunteers to connect with local sea turtles – or "real life Crushes."
Home to 19 known archaeological and historical sites, St. Joseph Bay State Buffer Preserve Center is the area's modern hub for nature-centered recreation. The Visitor Center is home to all kinds of educational exhibits on native plants and animals. Climb to the top of the Observation Deck for panoramic views of St. Joseph Bay through a mounted telescope. Numerous trails are also available in case your crew needs to get their wiggles out before getting back in the car. 
Curious as to why Port St. Joe is also called "The Constitution City?" Visit the Constitution Convention Museum State Park to find out! (Spoiler: Florida's first constitution was drafted here in 1838.) Your kids will be transported back in time to when the constitution was drafted, thanks to animated, life-size mannequins of delegates like William P. Duvall and Robert Raymond Reid that create a replica of the then-town hall.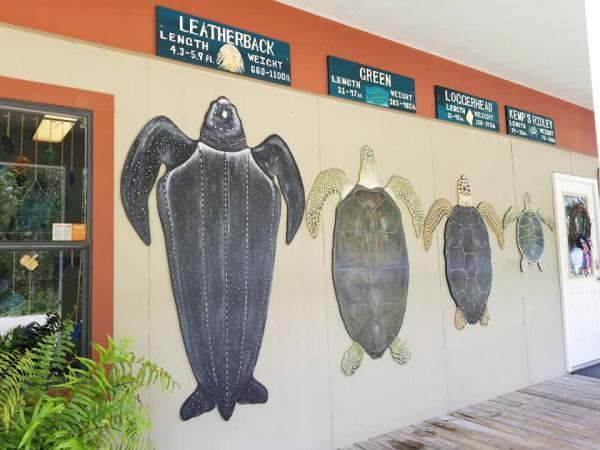 Be Sure to Stop for a Local Bite…
Choosing a restaurant that everyone in your family will like can be daunting, especially on vacation. While fresh Gulf seafood is the star of the show at Longbill's Restaurant, pasta, tacos, and sandwiches are also on the menu – perfect for some family members with picky palates. 
If your kids go crazy for P-I-Z-Z-A, Windmark Beach Bruno's Pizza is sure to please with their house-made marinara atop a hand-tossed pie of scratch-made dough. And your kids will enjoy "dinner with a show" as they watch their meal being made from the open kitchen! 
…And Make Dessert a Food Group 
Kids and adults agree: vacation time is treat time and Gulf County has some mouth-watering options. Sugar Shack PSJ serves cones, custom sundaes, and old-fashioned floats with local flair. Shoobies is a seasonal ice cream truck with one location in PSJ and the other that moves between Wewa and PSJ Beach depending on the season. This is where you can get your fix of signature Jersey gelato and their soft-serve has been voted Best Ice Cream on the Forgotten Coast for years! 
Stay Where You Won't Want to Leave 
You will fall in love with our low-rise lifestyle. From homes with direct beach access to quaint bed-and-breakfasts, Gulf County has the perfect place to make your family feel right at home. A concierge team is available to assist you in making your booking – simply drop a line at concierge@visitgulf.com.
If you're an RV owner, bring your home-away-from-home with you to Port St. Joe RV Resort. Port St. Joe RV Resort boasts bay views that may just make you feel like you are living on a postcard. Enjoy the kids' playground, fire pits, and Wi-Fi on the property, all while being close to area attractions. And don't worry, your furriest family member is welcome here, too. 
Gulf County: Great for Kids 
Your littles are only little once, so soak up every moment together as you bask in the sunshine in Gulf County. Start planning your trip now to the loveliest coast of Florida's panhandle, otherwise known as one of your family's newest core memories in the making. 
Main article photo credit: Lauren Freeman