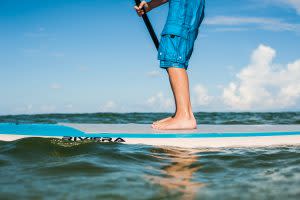 Gulf County, Florida, is one big natural outdoor playground where wonder and adventure are around every corner.  Whether you want to hit the water or stay on land, the adventures are endless.  We invite you to experience one of our many adventures while on vacation.  Don't let this list fool you, as we have many more options for you.  Contact one of our Concierges today to get started on planning your next vacation to Gulf County, Florida.
Kayak & Paddle Boarding. Catch the drift on one of our diverse waterways. Launch your kayak or paddleboard and glide for miles above the pristine, shallow bottom of St. Joseph Bay.  With clear water, you can spot dolphins, sea turtles, and an array of fish.  If you want a change of scenery, head north to the Dead Lakes, where you will likely spot an eagle, alligator, and an abundance of birds.  Don't worry if you do not have your own vessel as we have several businesses that rent them daily or even weekly.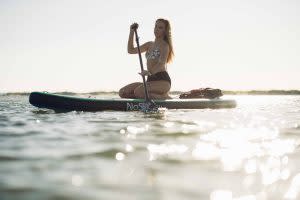 Sunset Cruise. Viewing a Gulf County sunset from the beach is amazing but catching the spectacular colors of the sun setting on the water is just a step above. Many local fishing guides will also offer sunset cruises on their boat each evening.  Give them a call to book ahead of time, though, as they stay busy during the season.  If you are bringing your own boat on vacation, check out our list of boat ramps that will allow you to get on and off the water easily.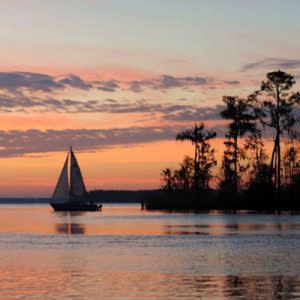 Biking.  No one minds a little exercise when the scenery is so beautiful.  Rent a bike from one of our local outfitters and explore. Gulf County has many paths and trails for a day on the bike.  From Loggerhead Run Bike Path that runs the length of Cape San Blas to the Port City Trail located in the center of Port St. Joe, there are miles of new views to see.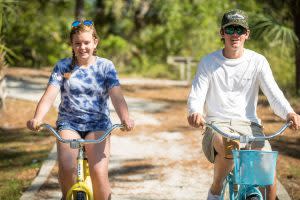 Fishing.  Looking to just wet a line or seeking bragging rights on the next big one, fishing is a year-round activity in Gulf County.  Book a guided fishing trip with one of our local charters or surf fish steps away from your vacation rental.  We have outfitters that can get you surf fishing under $50!  The best part is that you can even cook your catch that night for dinner!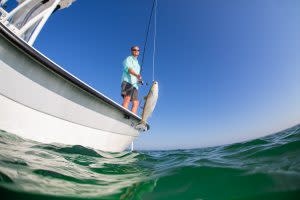 Turtle Walk. Enjoy a walk along one of our beaches with SJP Turtle Patrol.  You will learn why it is essential to keep our beaches clean, flat, and dark, plus depending on the season you may luck up and see hatchlings make their way to the water.  Contact the Florida Coastal Conservancy today to schedule your walk.  Check out our Turtle Trail.  It is a great family activity to do while on vacation in Gulf County, Florida, and it is FREE.   Learn more about our turtles here.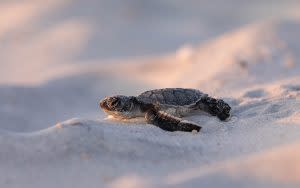 St. Vincent Island.  The island is home to numerous shorebirds, nesting ospreys, and bald eagles, as well as an abundance of alligators, Sambar Deer, and the native white-tailed deer.  The island is also a haven for endangered species such as the Loggerhead Sea Turtles, Indigo Snakes, Gopher Tortoise, and a pair of Red Wolves.  Plus, it has some of the best shelling!  You can access the island with your vessel, or you can take a shuttle to and from the island (for a small fee), but you must call and reserve your spot.
Horseback Riding. Whether it's riding off into the sunset or a private excursion for family photos, a horseback ride on Cape San Blas is a great way to make memories. All trips are at a comfortable walking pace and last about an hour.  No riding experience is needed!  Check this off your bucket list while on vacation!

Bonfire on the Beach. What better way to end a day on the beach than relaxing and roasting marshmallows with the family around the fire?  Bonfires are allowed on the beach, but you must follow the rules! The best part is that there are businesses in Gulf County that take care of everything for you from setting up the fire to even disposing of the remnants for you.  That is what we call hassle-free fun!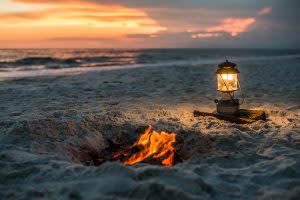 St. Joseph Bay State Buffer Preserve. Take a tour of the Visitor Center to learn how vital the buffer is to the area and then climb the Observation Tower to view St. Joseph Bay.  They also have multi-use trails that are available for hiking, biking, bird watching, and photography.  Mark your calendars for Bay Day, where they offer FREE Tram Tours of the Preserve.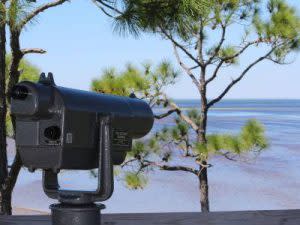 Gulf County Parks. Our beaches are beautiful, and so are our parks.  One of our favorite parks is Salinas Park Bayside. We suggest you pack a picnic lunch and enjoy it in one of the many enclosed pavilions located there, then let the kids play at the playground.  Take a stroll down the dock that stretches out over St. Joseph Bay.  It even features a kayak launch.  The newest feature at the park is the boardwalk system that winds through the natural foliage above the bay.  It allows pets plus is wide enough for a bike.  The benches along the walk are the perfect place to stop and catch the sunset.  After the sunset, relax around the fire pit area.  While there, take a selfie with one of the Turtle Trail turtles.  The park also features pickleball courts.