Wildlife in Gulf County, FL
In Gulf County, Florida the possibilities are endless when it comes to experiencing nature on open or secret shores.  Today we will take you on an adventure with some of our wildlife that stays on-shore or sometimes in the sky.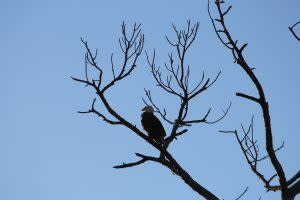 Bald Eagles can be seen around Gulf County either soaring in the blue sky above or you might see one perched upon a nest in the area.  The St. Joseph Bay Buffer Preserve has set aside over 5,000 acres of protected coastal landscape where Southern Bald Eagles often perch atop tall pines or make their nest amongst the trees.  The Preserve is home to many other birds as well.  You can download your own bird watching guide so you can check off the ones you spot on your walk through the trail system or as you make your way around Gulf County.  There is also a Bird Hotspot Map you can download.  Make plans to stop in at the Visitor Center and learn more about how it was established to protect and preserve one of the most ecologically significant areas in Southeast United States.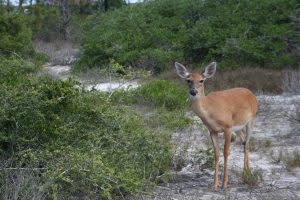 Another area in Gulf County known for wildlife is St. Vincent Island.  It is home to numerous shore birds, nesting ospreys and bald eagles, as well as, an abundance of alligators, Sambar deer (native to Southeast Asia) and the native white-tailed deer.  The island is also a haven for endangered species such as loggerhead sea turtles, indigo snakes, gopher tortoises and a pair of red wolves that are part of the Red Wolf Recovery Program.  St. Vincent is accessible by your own vessel or by a short boat ride on the ferry.  Be sure to call ahead to book your reservation.