Holiday Traditions at the Beach
Are you afraid to give up the old holiday traditions in search for new ones?  You do not have to in Gulf County, Florida.  Whether it is baking cookies for Santa on Christmas Eve or gathering around the table with for a home cooked meal, you can still have all of those when you find your home away from home for the holidays.  Gulf County has a wide variety of vacation homes that come equipped with large kitchens and tables for the entire family to gather in for the holidays.
Cooking and eating is just one of many traditions that many families have during the holiday seasons. Lets visit a few more traditions that allow the old to be intertwined with a little new.
Families have been creating their own ornaments for generations to add to the tree each year and with the introduction of Pinterest, the ideas are endless.  This year instead of seeking out those pinecones in the yard go on a search for shells.  Set up the craft table on the balcony and create an ornament that that you can see each holiday on the tree that reminds you of your favorite holiday vacation.
We always seem to think of food around the holidays but yet someone has to go shopping for all of those groceries and then cook it.  Imagine sitting around the table with family for a holiday meal and you didn't have to do anything but sit down and enjoy.  You can have one or both of those in Gulf County, FL.  Just call one of our concierge service companies and let them bring the groceries if you would still want to have the tradition of family cooking together but can invest that extra time it takes to got to the store and spend it with family.  Looking for hassle-free then call Your Table, Your Chef and let Chef Ian come cook an entire meal for the family.  You can choose to do as much or as little as you want for your holiday meal.
Capture the holiday with the old tradition of a family photo but take off the stress of setting the timer on the camera.  The town is full of seasoned photographers who will guide you on the sunset time for the perfect picture or maybe you want to actually relive this holiday beach vacation with candid photos.  Schedule a session in advance.
And who doesn't always have trouble finding that gift for the person who has everything?  Start a new tradition and shop unique by shopping local.  Forget shopping early, forget Black Friday crowds, and forget Amazon, yes I said it. Gulf County is full of locally owned boutiques and shops that carry handmade items from locals.  Make the perfect gift this season, the gift that reminds each of you of the perfect holiday beach vacation that you had with family.  And don't worry; Santa loves Gulf County, Florida so he will not forget to stop on Christmas morning.
If you would like help to plan the perfect Beach Holiday Vacation, contact one of our Concierges at Concierge@VisitGulf.com or visit our website at VisitGulf.com.  Also, be sure to check out all of the local events that happen during the holidays.  We hope to see you this holiday season in Gulf County, Florida.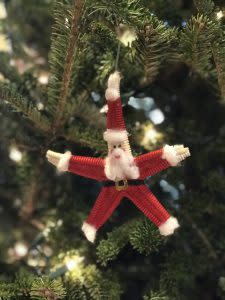 Kristy Grove
November 2019