The adventures are endless in Gulf County, Florida, and when it comes to exploring the outdoors, our parks do not disappoint.  Once you realize that Gulf County has more to offer than pristine, white sandy beaches, your vacation will become adventure-filled.
Horseback riding on the beach is on several people's bucket list, and you can check it off here.  Salinas Park Gulfside offers the perfect home for our horse families.  This park allows the room for the outfitters to meet families and set off on an adventure.  If you are looking for a sunset ride with your family or maybe you have a special occasion, they will customize the experience to meet your needs.  To book your bucket list adventure, visit Things To Do on our new website.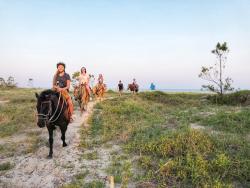 If you are looking to expand your adventure that evening, then start it off across the street at Salinas Park Bayside.  This park offers something for everyone to enjoy.  The covered pavilions allow you to enjoy dinner overlooking St. Joseph Bay.  Walk off your meal by strolling the new Serenity Trail boardwalk where you and your furry friend will find benches for resting along with a misting station to cool off.  Your view doesn't stop there.  Walk along the edge of the bay and you will see a pier that extends out.  We suggest making plans to return to watch the sunset another evening while enjoying the fire pit with smores while the kids enjoy the playground.  You may notice a turtle statue while exploring.  It is part of the Turtle Trail.  This is a great family adventure you can do throughout the week.  Pick up your map at the Welcome Center or download one online.  Remember the pier we mentioned? It is also a kayak launch area that allows easy access to the Bay.  If you did not bring your kayak, many outfitters offer rentals.  To find one close to you, visit our Rentals page.  If you are looking to get a little exercise, try your hand at pickleball.  The newly designed courts will allow you to try something new.  There is also a new sand volleyball area for a little family fun competition.  You can literally spend multiple days at Salinas Park as it is one big outdoor playground.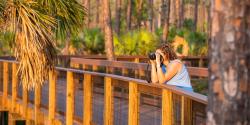 Gulf County is known for the many waterways that surround it, and White City Park and Boat Ramp will get you on your way to the Gulf waters or on the Intracoastal for an eco-tour.  The boat launch is easily accessible and has plenty of parking.  Once you arrive, you will see many fishermen casting a line in the water from the bank as the fishing is one-of-a-kind in Gulf County.  The park is also a popular swimming area for local kids as they jump off the dock.  Explore all of the waterways, a new adventure each day.  Find easy access to our launches on our adventure map located on the Parks page.
Our beaches stretch for miles, and you can access them easily from many of our parks.  One particular park that not only has beach parking and easy access but also offers many other amenities is Veteran's Memorial Park at Beacon Hill.  This park is located in St. Joe Beach and sits atop a hill overlooking the Gulf of Mexico.  Just a short stroll across the street and your feet will hit the sand.  It also offers restrooms, outdoor showers, a playground, covered pavilions, and pickleball courts. Be sure to take time to walk around the park as it pays respect to the Armed Forces.   Look under the flags that are flying high above as you will see the special dedication to our military.
Heading to North Gulf County for the day will not disappoint.  On your journey north, stop off at Honeyville Park and enjoy a break under the oaks that provide shade to the entire park.  Continue your journey north to the Dead Lakes area, which is memorizing.  Spending a day on an eco-tour or paddling your own kayak, the view will deliver many types of wildlife to spot and photograph.  Before your adventure, take a moment to read about Wewahitchka and the infamous Tupelo Honey.  On your tour of the Dead Lakes be on the lookout for the trees.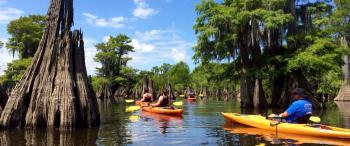 You can tour all Gulf County Parks virtually on our new website at VisitGulf.com/Explore.