5 Free Things To Do In Gulf County, Florida
The Beach!  With 43 miles of shoreline, we have a beach for everybody.  Cape San Blas is a beach that will inspire you. Just scan the sparkling emerald water, sink your toes into the powdery white sand, and enjoy a day of relaxing. Indian Pass has 8 miles of shoreline that are wide and flat, offering seclusion.  If you are in Port St. Joe, the nearest beach access is St. Joe Beach with miles of picturesque waters and white sandy beaches.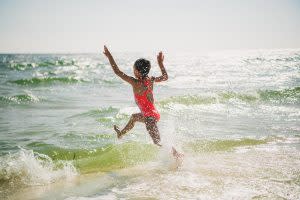 Amazing Sunset Viewing! Yes, we know that there is nothing better than a sunset on the beach, but while on vacation, try a different scene.  Step into one of the many Gulf County Parks.  One of our favorites is Salinas Bayside.  With a dock extending out over St. Joseph Bay, you will have nothing obstructing your view of the sunset.  The park also offers a nature-walking path that intertwines above the bay and through native plants and trees of our area.  Be sure to take a walk around the entire park that also includes pickleball courts, pavilions, and a fire pit area.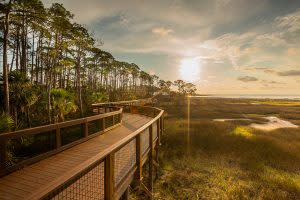 Go See a Turtle at The Forgotten Coast Sea Turtle Center. Gulf County is the highest density nesting place for Loggerhead Sea Turtles in Northwest Florida.  We covet and protect these massive, beautiful creatures, and we ask that our visitors do as well.  What better way to learn than to take a visit to the center and learn how you can help? Also, depending on the time of year, you can schedule a turtle walk, and you may even get lucky to see some hatchlings make their way to the water. Be sure to check out our Turtle Trail that is a fun activity for everyone.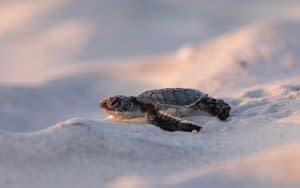 Meet Our Bees.  Head to Wewahitchka in North Gulf County to find gold.  Tupelo Honey! It is here that beekeepers gather the only pure tupelo honey harvested from the White Tupelo Gum tree.  You can see some of these trees at the Dead Lakes Park area, then you can head over to tour one of the many apiaries where you can taste samples.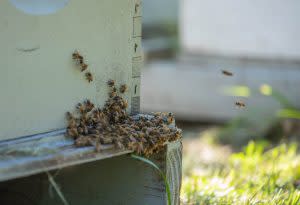 Explore the Arts. While walking on Reid Avenue in Downtown Port St. Joe, stop in The Joe Center for the Arts. It is a community based non-profit art center that is home to many different galleries and shows throughout the year.  If you happen to be visiting in early May, be sure to check out the Forgotten Coast en Plein Air event.  It is a 10-day festival that documents the landscapes and culture of our area.  You will come in contact with many artists throughout the area as they perch on roadsides and areas to capture our area. You can find out more about this event and all Gulf County events at VisitGulf.com.  Most are free and family-friendly.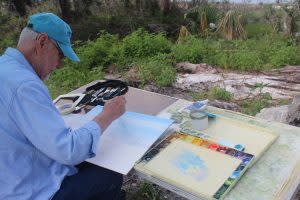 Kristy Grove
11/22/19