Vacations can be affordable and when you take a look at Gulf County, FL, you will find that the five listed below are just the beginning.   Be sure to check out our previous post where we gave you a few suggestions on free things to do while on vacation. If you are looking for more fun adventures or need assistance planning your next vacation, contact one of our Concierges.
1. Climb Our Lighthouse!   The Cape San Blas Lighthouse is located in the center of Port St. Joe overlooking St. Joseph Bay.  You will enter one of the two Keepers Quarters' that are located in George Core Park to pay the $3 climb fee plus you can read about the history of the lighthouse and its relocation of it in 2014. The lighthouse does have specific days and hours they are open so be sure to check their website.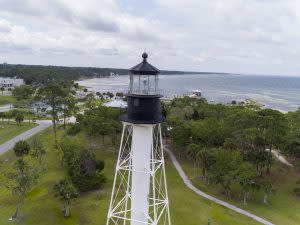 2.  Visit a State Park or two!  Enjoy a day on the bay or the beach at T.H. Stone Memorial St. Joseph Peninsula State Park on Cape San Blas.   The park also includes a boat ramp, restrooms plus Scallop Cove Too that rents kayaks, paddleboards and boats.  Entry to the park is $6 per car.  Another park is the Constitution Convention Museum State Park, which highlights Florida's first constitution, which was drafted in the town of St. Joseph.  Visitors can take a self-guided tour through displays and exhibits of the era for $2 per person.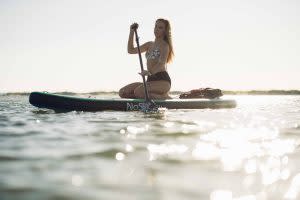 3.  Take a bike ride!  Scallop Cove located on Cape San Blas can get you peddling for $10.  With Loggerhead Run Bike Path right outside their door, you can take a 8.7 mile ride on the paved pathway that runs the length of Cape San Blas from Salinas Park to T.H. Stone Memorial St. Joseph State Park. Stop into the park for a small fee of $2 per bicyclists.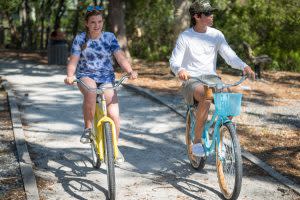 4.  Catch dinner!  Enjoy a day or evening on the beach shore fishing.  Bluewater Outriggers can get you going with a 3 day license, rod & reel plus tackle and bait for around $60.  Our bay is also a great place to catch trout, redfish and flounder.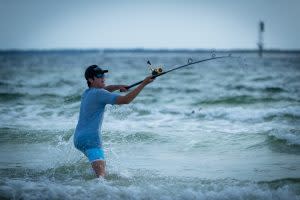 5. Cool off!   Stop by one of  Shoobie's locations and grab an ice cream cone or a scoop of water ice for $2.50.  This locally owned business puts a new spin on gelato and is sure to cool you down on a hot summer night.