There's nothing like spending the day out on the water with family and friends, just be sure safety is foremost on your mind.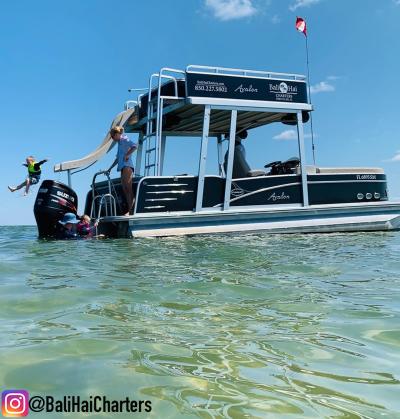 Gulf County is surrounded by all different types of waterways. We live our lives on these waters, and they nourish our souls. Over 244 miles of shoreline wind through Gulf County ranging from clear waters and white sand beaches to tranquil inland passages. You can discover starfish, brittle stars, seahorse, sea squirts, adorable puffer fish, octopus and much more while snorkeling in the seagrass beds of St. Joseph Bay. The Gulf of Mexico is easily accessible with outstanding deep- sea fishing and boating. The legendary Dead Lakes are home to one of the richest eco-systems in Florida. The Intercoastal Waterway flows east and west through Lake Wimico. And, Indian Pass Lagoon offers natural beauty, uncrowded beaches and prime fishing. 
As the weather is warming up more and more people are eager to get out on the water, we want to make sure you get to have a safe and fun vacation, while also protecting our local wildlife and remarkable Aquatic Preserve for generations to come. 
From must-have safety gear to how to safely operate a boat, check out these important boating safety tips before you hit the water: 
Be weather-wise. Check the weather and the tides before you hit the water. If you already checked it, check it again before you head out. Weather changes and unexpected storms can sneak up on you, checking the tides not only protects our wildlife and sea grass from prop damage but also prevents you from running aground if the water is too shallow. A great weather resource to use while planning your day on the water can be found at, https://www.weather.gov/marine/
Know the nautical rules of the road. Maintain a proper lookout and be respectful of buoys and other navigational aids, all of which have been placed there to ensure your safety and the safety of the local wildlife and other boaters around you. To learn more, check out the USCG's Navigation Rules information page. 
Be prepared with a boat safety kit and provisions. You can't always predict an emergency, so be prepared for any situation. Alway's make sure your boat is loaded with proper safety equipment. It's better to have it and not need it, then need it and not have it. Pack more food and water than you think you will need. You may be surprised by how boating works up your hunger and thirst. 
Leave a float plan. Things can sometimes go wrong when you are out on the water, always make sure someone on shore knows when and where to look for you. 
ALWAYS wear a lifejacket. The vast majority of boating-related deaths occur because victims were not wearing a lifejacket. It's easy to do and it could save your life. Find out more about choosing the right fit of lifejacket here. 
Dress in layers. It might be warm on land, but you don't want to get cold if the breeze kicks up on the water. Be prepared for changes in conditions. Dressing in layers can also help give you more protection from the sun during long trips out on the water. 
Have an on-board first-aid kit. When you are on the water, you can't just run to the doctors office if you suffer an injury. Be prepared to treat yourself or passengers until you can get back to land. 
Have a tool box. If you have a mechanical problem while boating, you don't want to be stranded on the water for possibly hours waiting for help to arrive. It's always best to have a few tools and spare parts available on your vessel, just in case something may need to be fixed out on the water. 
Store away phones and valuables. Valuables like cell phones, keys and wallets have a way of getting wet or accidentally falling in the water. Make sure they are secured in a dry box or waterproof bag. 
Follow proper boat launch etiquette. Load your boat ahead of time, not on the ramp or launch area as not to impede upon the flow of traffic. If needed, find an empty parking lot and practice steering with your trailer so you'll have experience come launch day. 
Use common sense. Operate at a safe speed at all times (especially in crowded areas), stay alert and steer clear of large vessels and watercraft that can be restricted on their ability to stop or turn. 
Follow proper docking procedures. Go slow when docking, if you rush you could damage your boat, the dock, another vessel or even cause an injury. It it's not going well, don't be too proud to back away, start again or ask for help. 
Start planning your trip to explore some of Gulf County's beautiful waterways today! Check out our interactive map, where you can find all of the amenities and locations for area boat launches and kayak launches.