We love it when Gulf County is in the spotlight.  This time Cape San Blas was included an article by Poppin' Smoke titled The Best Unknown Vacation Spots in the United States.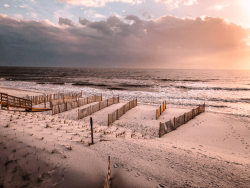 Eager to travel, but want to avoid crowds? After so many months at home, aren't we all? While cooped up in the house, I solicited many of the top travel bloggers and asked a simple question: What are some lesser- known, cool places to go in the U.S. that people need to visit now?
I learned about many places that I'd never heard of, but they all sound awesome! I've compiled the list of these lesser-known destinations that won't have the crowds, but will fulfill the wanderlust in you and your family.
Are you looking for beaches, mountains, national parks, or quaint little towns? My fellow travel writers have you covered and will help you discover 22 of the best unknown vacation spots in the United States!
Read her full article here: https://www.poppinsmoke.com/best-unknown-vacation-spots-in-the-united-states