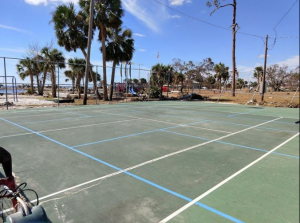 If anyone believed that Hurricane Michael would provide too much of an obstacle for the local pickleball players, they have not been paying attention.
The fastest-growing sport in the nation has a firm toehold in Port St. Joe and Mexico Beach, with new courts to be built in Veterans Memorial Park at Beacon Hill.
And so it was, despite their individual personal hardships, that members of the local Port St. Joe and Mexico Beach pickleball leagues gathered after the storm.
The goal, to clean the courts at Frank Pate Park, particularly important given the destruction in Mexico Beach.
And to say "clean" does not provide sufficient justice, because they folks had to disburse wood, debris and a thick coat of sand and dirt covering the courts.
But after a day of intense work, the job was completed."Thanks to the heroic efforts of several of our local pickleball players, the (Frank) Pate Park courts are now playable," said Rod Riegle, the president of the Mexico Beach pickleball league.
And last Saturday, play picked up again for the first time after the storm, followed by a "Welcome Back" party at the Haughty Heron --- Tim Croft, The Star Newspaper