by CAROLINE SANDERS, Garden & Gun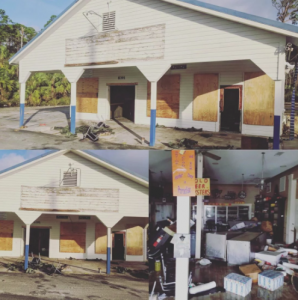 With its alarmingly rapid intensification and winds that topped out just shy of Category 5, few people will forget Hurricane Michael. But the McNeill family of Indian Pass, Florida—a crossroads community between Port St. Joe and Apalachicola—has seen its like before.
In 1985, Category-3 Kate followed a strikingly similar path across the Gulf and roared ashore at Mexico Beach, just twenty miles up U.S. 98 toward Panama City. Back then, the McNeill's family business—Indian Pass Raw Bar—wasn't a restaurant at all; it was a wholesale seafood vendor, with roots dating back to 1929 when it was the commissary for a nearby turpentine operation. "When Kate came through, that's how we became a restaurant," says Meredith McNeill Panjic. "Because of the storm, we didn't have enough seafood to do wholesale, so we changed."
Two days into the aftermath of Michael, power is out at the bar, all the food is spoiled and acquiring more anytime in the near future is uncertain, the air conditioning unit got knocked to the back of the property, and the restaurant's sign and front doors blew into the Gulf. But the building—and the business—are still standing. "Everyone we know is okay. The things that really matter are all alive," says Abe Panjic, Meredith's husband. "This might be the worst storm in fifty years, but the McNeill family has been around much longer than that."
Betty McNeill, Meredith's ninety-one-year-old grandmother, who married into the family in 1947, evacuated inland with the Panjics to Eufala, Alabama. They're all driving back down to Indian Pass on Friday, bringing with them supplies to help neighbors in need and to reunite with Meredith's father, Jim McNeill, who managed to safely ride out the storm inside his home nearby.
"This whole area, the whole Gulf, we've done this before. We're all resilient," Meredith says. "That's the thing about living in paradise, you have to be ready for this. The level of destruction [from Michael] was so comparable to Kate, and that took a whole year to come back. Now we're more advanced, we have more technology."
However long rebuilding takes, the family is confident that Indian Pass Raw Bar will come back to serve the community as it has for nearly ninety years. As Meredith poignantly wrote on the restaurant's Facebook page, "We've been here since 1929 and we're not going anywhere. So as soon as we find our doors, we'll open them to business."
UPDATE (OCTOBER 15):
On Sunday, four days after the storm hit, the McNeills found the door under a pile of rubble nearly inside the restaurant's seafood cooler. They also found the sign beneath a mound of debris about three hundred yards behind the building. With the sign salvaged and the door on its hinges, it's only a matter of time before the rest of the operation is back on its feet.