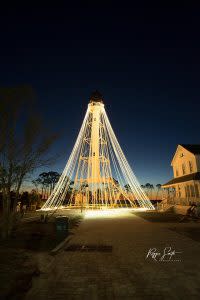 The residents of Port St. Joe are living out their own version of How the Grinch Stole Christmas after Hurricane Michael changed their town nearly two months ago. A group of Port St. Joe residents had gotten together before the storm and formed a group to gather donations from local businesses to purchase Christmas lights for downtown Port St. Joe.  The group of merry elves named themselves Let There Be Lights.
Obviously the storm tried to damper Christmas spirit, but these helpers persevered. With donations in hand, they purchased and strung 60 strands of lights from the Cape San Blas lighthouse that overlooks St. Joseph Bay. Alexander Neville, elf and affected local business owner, called it a 'labor of love' for his community. It now shines as a beacon of hope and spreads the Christmas spirit for Port St. Joe and Gulf County.
Standing strong and bright through the storm, like the people of the area, the lighthouse and this special project prove that Christmas perhaps, does mean a little bit more.
Thank you to Reggie Smith Photography for capturing this special moment for us.